▼
Best sellers

New Arrivals
Money Detection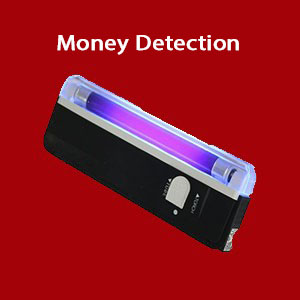 This portable UV black light can be used as a torch and a money detector within a powerful mini flashlight built-in. Long wave UV light, not harmful to your eyes. Power Supply: 4 AA batteries (not included). Verify hidden security features on banknotes and passport. Check watermarks and security strips. Check paper quality on security document..
The medal is equipped with a sensor UV He is responsible for reviewing the raw material of the paper by showing the phosphorous ink. The medal is equipped with a sensor MG, He is the magnetic responsible for the magnetic ink in the Money ...
The pen is the cheapest and easiest way to detect fiat coins when the original currency shows yellow and when the coin is counterfeit shows black or slightly dark color...
Showing 1 to 3 of 3 (1 Pages)